Raphael Odhiambo, who has faithfully supported most of these children in their educational pursuits over the years, is our current, part-time DOP/CCI Director. He is highly regarded in the local community, has years of experience and education as a certified teacher, and has served as the board chairman for the Saint Vivitalis Primary School in Dunga assisting over 500 orphans.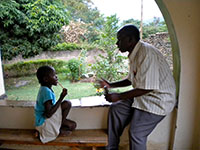 He is married with five children, an engineer, two in university, two in high school, and his youngest in primary school. He acts as a guide and a mentor to many of the young men in his community.
Ogutu "Seth" Okumu is our current, part-time, Account & Program Manager. Seth brings extensive experience to our organization in healthcare, child
welfare and community projects. His past employment includes the Walter Reed Project, Sustainable Aid in Africa, and USAID. He holds a bachelors degree in Public/Environmental Health from Moi University. He is originally from the Kisumu area in Kenya and has two children. Seth has proved himself to be a strong financial administrator with excellent communication skills. He has been instrumental in providing outside assistance and mentoring to our teenage girls.
Lastly, we have a wonderful home based program provided by our past and present care givers for the younger and most vulnerable children still living at home. Nereah Alouch Omondi has provided care and support for most of our children over the last seven years. She not only provides childcare, but also acts as a mentor and guide to many of the older girls in the program. Nereah is married with two biological children of her own. The children clearly love and respect this mature, experience mother and caretaker.