Fred Dianga, our current part-time director, is a past graduate of our program.  He attended Moi University and later received his masters in education.  Fred helped his brother to attain his education, training and position as a police officer.  Fred currently teaches high school religion and social studies, is married to Janet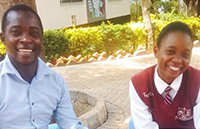 Dianga, also a teacher, and has two young children.  Fred is an award winning instructor and has recently achieved candidacy as a high school principal.
Fred has been the director since November of 2019, helping the organization and its young beneficiaries to navigate the pandemic crisis in Kenya.  He regularly visits students, guardians and past graduates.  He and his wife Janet opened their family home to four of our most vulnerable high school boys providing a caring, secure environment with nutritious meals, guidance and tutoring.
Raphael Odhiambo, who has faithfully supported most of these children in their educational pursuits over
the years, is now retired from his position as part-time DOP/CCI Director.  Highly regarded in the local community, he has years of experience and education as a certified teacher, and has served as the board chairman for the Saint Vivitalis Primary School in Dunga assisting over 500 orphans.
He continues acts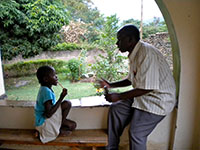 as a guide and a mentor to many of the young men in his community and to our new director, Fred Dianga.  We will miss his wisdom and his enthusiasm for our program and its students.
Lastly, Nereah Alouch Omondi has provided care and support for most of our children over the last ten years.  Now that most of our children are older, she acts as a mentor and guide to many of the girls in the program. Nereah is married with two biological children of her own.